Seniors Serving Seniors is seeking private pay service providers for seniors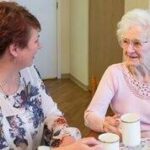 Do you know a house cleaner, cook, gardener, handyman, hairdresser, foot nurse or a companion who works well with seniors? Are you a service provider looking for more income? Do you provide services that seniors may need?
Seniors Serving Seniors (SSS) in Victoria is looking for private paid service providers to refer to Victoria seniors who call looking for these services in their homes.
SSS is a non-profit that provides a comprehensive directory of more than 500 seniors' services available to seniors in the Victoria area.  The directory includes government and health services, community groups, municipal services, seniors' organizations, charitable groups and more.
It does not include listings for privately paid services such as house cleaners, companions, etc.  The society does however, maintain a private care list of vetted service providers for the 1,000 plus seniors who call the Senior Link Telephone Line looking for these services every year.
Service providers will have to provide a current Police Information Check, a resume and three letters of reference to sl@seniorsservingseniors@bc.ca or call (250) 413-3211.
The Association has been providing directory resources and coordinating seniors' programs and community needs since 1981. The Directory is available online.  The service providers database is available through the office.
Call for more information Monday through Friday from 9 a.m. to 4 p.m.