PM hints: Pension hikes are coming in the Sept. 23 Throne Speech
In Newfoundland Thursday, Primer Minister Justin Trudeau hinted that his Sept. 23 Throne Speech will contain pension increases for Canadian seniors.
Last year at this time, on the campaign trail, Trudeau promised to do more to boost incomes for seniors, widows and widowers.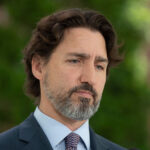 He said a re-elected Liberal government would increase old age security by an extra 10 per cent once a senior turns 75, and would boost the Canada Pension Plan survivor's benefit by 25 per cent.
While the Liberals – and other parties – were targeting young families in the early stages of the 2019 campaign, they also appreciated that voters over the age of 65 are often those who most reliably show up at the polls.
"Our parents have worked so hard and sacrificed so much to give us a good life," Trudeau said at the time. "Once they get to retirement they shouldn't have to worry about their savings running out."
Survivor benefits could see an increase of more than $2,000, while the increases to OAS could mean more than $700 extra for seniors each year.
The CBC's Chris Hall says that five years ago Trudeau gambled that Canadians were tired of austerity when his party's election platform took the heretical step of promising to run budget deficits over the medium term.
"Now, Prime Minister Justin Trudeau is preparing to gamble again that Canadians will support even more deficit spending when his government rolls out a new agenda later this month to respond to the health and economic challenges posed by the COVID-19 pandemic."
In an interview with CBC morning show host Stephen Quinn in Vancouver Trudeau said: "We are asking Canadians to embark on an entirely different direction as a government. We are going to rebuild the Canadian economy in a way that was better than before."
The rebuilding effort begins with the Sept. 23 Throne Speech and will continue later in the fall when Finance Minister Chrystia Freeland releases her first economic outlook.