Where have all the aging workers gone?
Canada's dramatic labour market transition, driven by an aging population, and exacerbated by a global pandemic that has shifted the priorities of some workers, has left policy makers and consumers alike asking, "where have the workers gone"?
As help wanted signs appear in the windows of hotels, restaurants, and others business across the country, a new study of more than 5,000 Canadians from the non-profit Angus Reid Institute helps illuminate a shift in the labour market.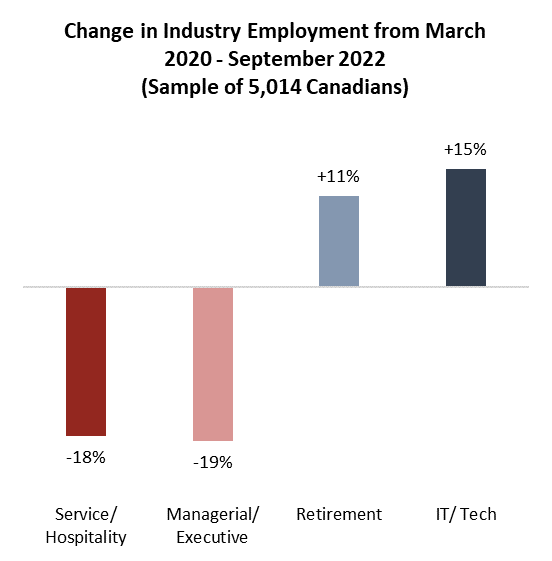 These data show an 18 per cent decline in the number of workers in the service sector over the last two and a half years. This includes a 22 per cent decline among 18- to 24-year-olds and a drop of 15 per cent among 25- to 34-year-olds.
While the service sector has experienced significant attrition, a corresponding boost is noted for the tech industry. The proportion of workers involved in tech and information technology has increased 15 per cent during the same period, with a 36 per cent increase among 18- to 24-year-old workers.
Another notable aspect of these data are the movements of older workers. As COVID-19 shut down huge swaths of the country, many older Canadians chose not to return to work. That said, six per cent of workers who were retired in 2020 have returned to work, perhaps beckoned back by employers hoping to fill vacancies with experienced staff. Overall, the trend has been toward retirement, however, rather than away from it. Among those who are 55 to 64 years of age, there has been a 27 per cent increase in retirement, despite those individuals remaining below retirement age.
The loss of older workers means a diminishing white collar managerial and executive class. The number of Canadians employed in that sector has dropped 19 per cent, led by a 26 per cent drop among 55- to 64-year-olds and a 41 per cent drop among workers of retirement age.
More Key Findings:
Four-in-five full-time workers (78%) say they are satisfied with their employment currently, alongside seven-in-ten who are working part time.
Satisfaction is highest among professionals (87%), tech workers (84%), and those in the creative or knowledge industry (83%). Satisfaction is lowest among the service sector (72%), office workers (70%), and labour workers (65%).
Just two-in-five Canadians who rely on gig work for their primary income say they are satisfied with their employment (39%), while 52 per cent are dissatisfied.
Link to the poll here: www.angusreid.org/