Premier knocks "political extremism" in local votes
Premier John Horgan took aim at the People's Party of Canada's involvement in local elections on Friday.
The premier, speaking at the Union of BC Municipalities Convention in Whistler, was asked about the arrival of "political extremism" in municipal council and school board elections.
"Thankfully we live in a free society, and people can put their hand up and say, vote for me," he said, adding that he believes the majority of people are more thoughtful than "anonymous voices on Twitter."
He dismissed the People's Party of Canada, in particular, as "a lot of noise, a lot of attention, a lot of cameras – six per cent of the vote."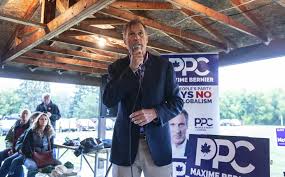 Earlier this week, Capital Daily published an investigation into the links between the People's Party of Canada and the local VIVA slate of candidates.
The collection of 13 council and school board candidates was founded by, and includes, former candidates for the far-right federal party, and was publicly launched a day after People's Party leader Maxime Bernier spoke in Sooke. Many attendees of that talk, where Bernier called for his supporters to get involved in fighting the "culture war" by getting involved in municipal elections, later showed up as part of the VIVA Victoria slate.
That involvement of wider conservative movements in local elections is a pattern that's been seen in the US and across Canada, with several notable successes in changing policy.
The slate calls itself "non-partisan" and supports candidates "who will fight for the interests of the people." In a statement posted in response to the Capital Daily investigation but which did not dispute the revelation of direct ties to the federal party, John Randal Phipps (a former PPC candidate who is the authorized principal officer for VIVA) wrote, "Our team has a very broad range of political viewpoints. I'm proud of that."
Those political viewpoints have ranged from displeasure with details of how council made the decision to remove the statue of John A. MacDonald in 2018 to claims about "pedophiles" writing the sex ed curriculum and the New World Order's interest in population control.
In the press conference, Horgan didn't reflect the alarm that some at the municipal level have expressed. Instead, he didn't give such political slates much of a chance at success: "When they put their hand up and say, 'Vote for us, we're angry at everything,' and they get annihilated, that gives me hope that communities and people are more focused on positive outcomes, not just being angry."
By Jimmy Thomson
The Capital Daily